King Abdul Aziz International Airport
KAIA - Jeddah Saudi Arabia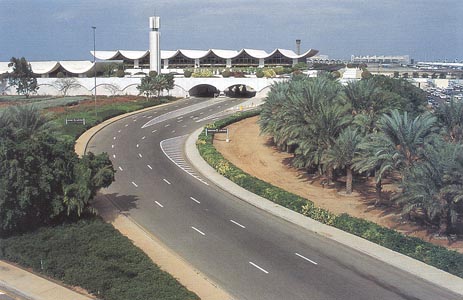 Gateway to the Two Holy Mosques
AIRPORT CONSTRUCTION
KAIA is the first international airport constructed in a program set by the Saudi Government for development of the Kingdom's international airports.
INAUGURATION
The airport was inaugurated in Jumadah Thani 1401H corresponding to April 1981.
LOCATION
KAIA is located 19 kilometers north of Jeddah. The Kingdom's first and most important trade center. It was constructed on the plain extending between the Red Sea and Hegaz mountains.
AREA
The airport occupies an area of 105 square kilometers which include, in addition to the main airport facilities, employees housing, an RSAF western region air base and land allocated for future expansions.
CAPACITY
KAIA is projected to accommodate 15 million passengers by year 2010G including hundreds of thousands of pilgrims who arrive by air to perform Hajj.