King Abdul Aziz Al Saud
1876-1953 (1293-1373 H)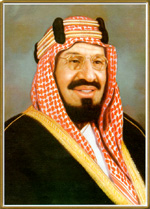 Born in the city of Riyadh, King Abdul Aziz Ibn Abdul Rahman Ibn Faisal Al Saud was brought up under the stringent care of his father. A group of contemporary scholars were assembled to teach him the fundamentals of Islam. He soon began to show an impressive array of qualities and talents, including shrewdness, courage, farsightedness and horsemanship. He was able to grasp both current and historical events. In 1891 and barely 12 years old, he traveled with his father, Imam Abdul Rahman Ibn Faisal Ibn Turki, to Kuwait. In ten years there, he acquired the necessary qualities of leadership and statesmanship. Consequently, hedecided to restore the rule of his forefathers, whatever the obstacles. A new epoch was launched when Abdul Aziz left Kuwait for Riyadh leading a small army of 60 men. This turned out to be "the small force that vanquished a big one, by God's Will."
The conquest of Riyadh occurred on the 15th of January, 1902 (5th of Shawal, 1319 H). Yet this was only the beginning of the "Jihad" campaign of King Abdul Aziz. Saddened by disintegration and the state of anarchy, ignorance, poverty and disease in the Arabian peninsula, he resolved to unify the ranks of his nation under the banner "There is no god but Allah and Mohammed is the Messenger of Allah."
King Abdul Aziz Al Saud went on to unify the scattered parts and splintered tribes of the Arabian peninsula. He annexed Al Qasseem in 1904 (1322 H), Al Ahsa in 1913 (1331 H), Asir in 1916 (1334 H) and Hayel in 1921 (1340 H). He conquered Taif, and entered Makkah in 1924 (1343 H). When Jeddah was taken in 1925 (1344 H), the entire Hijaz Region submitted to his rule. Continuing his Jihad for 31 years, Abdul Aziz was gradually able to establish the Kingdom of Saudi Arabia, declaring its founding on the 22nd of September 1932 (21st of Jumad Al Awal 1351 H).
Soon after establishing security in the Kingdom and uniting the peninsula's scattered regions and feuding tribes, King Abdul Aziz began to organize the State. He developed the administrative and organizational systems needed to function properly. He delegated the State's responsibilities and set up an organized government in the Hijaz upon its annexation. In 1926 (1344 H), he established the post of General Prosecutor in Hijaz, which was assumed by his son, Prince Faisal. In 1926 (1345 H) he set up the Saudi Shoura Council, also under the chairmanship of Prince Faisal. On the 30th of September 1931 (19th of Shaaban 1350 H), a special system was instituted: the Council of Deputies came into being under the chairmanship of Prince Faisal Ibn Abdul Aziz.
During these early stages of rule, King Abdul Aziz also established several ministries as an advance administrative organization, departing from the traditional administrative system of the First and Second Saudi States. The modern state established diplomatic relations in accordance with officially recognized political representation, including the appointment of ambassadors.
King Abdul Aziz Al Saud passed away in the city of Taif, in the Western Region, in 1953 (1372 H). His body was transferred to Riyadh, where he was buried with his Al Saud ancestors.