KFIA Initiates Plans to Attract Passengers
Thursday, 30 August 2007
Saudi Gazette
By Joe Avanceña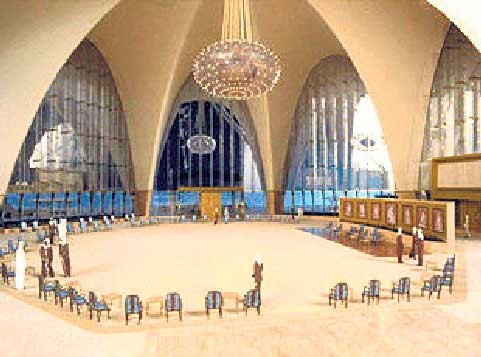 THE King Fahd International Airport (KFIA) in Dammam has started wide ranging improvement plans aimed at increasing passenger and cargo traffic, according to Khalid K. Al-Mz'el, KFIA Director General.

He said the development plans are expected to boost further the airport role in the Gulf region. "We have successfully negotiated for the increase in the number of airlines using our airport and consequently similar increases in flight frequencies," Al-Mz'el said.

In addition, more services to passengers are being implemented, including the expansion of the duty-free shops and other amenities. The reduction of landing fee and reduced fuel charge are also under consideration.

He said there are at present 26 international airlines, excluding Saudi Arabian Airlines, which are flying through KFIA.

"By the end of the year, two more international airlines will be using the airport as their major arrival and departure destinations in the region."

During the first half of 2007, increase in passenger and cargo traffic was noted.

Al-Mz'el said the number of passengers increased by 15 percent compared to that of the first six months of 2006. Likewise, cargo traffic also improved by 20 percent. The movement of aircraft to and from the airport also improved by 22 percent.

KFIA has been losing passenger traffic to Bahrain International Airport because of the preference of travelers to fly from the Manama airport, which offers more amenities and conveniences than KFIA. Most passengers from the Greater Dammam Area also prefer to fly via Bahrain because of its accessibility via the King Fahd Causeway. "We are not telling passengers to fly from KFIA. Hopefully, with the improvement plans we have initiated, more traffic in both passengers and cargoes will be achieved in very near future," Al-Mz'el told Saudi Gazette.

He said that by the end of 2007, over 4.5 million passengers would have used KFIA as their embarkation and arrival points. The airport has the capacity to accommodate some 16 million passengers in the future.

KFIA, located some 60 km from the Greater Dammam area, is the third major international airports in the Kingdom after King Khalid International Airport in Riyadh and King Abdulaziz International Airport in Jeddah.

It is the largest airport in the world in terms of area, covering some 780 square km and slightly bigger than the neighboring state of Bahrain.

It was completed in 1999, serving mostly passengers from Dammam, Dhahran, Al-Khobar, and the neighboring cities in Eastern Province.