Low cost & regional: Arabian pioneers
DATE:23/04/07
SOURCE:Airline Business
By Brendan Sobie
Four low-cost carriers in the Middle East have quickly emerged. Is this the tip of the iceberg or is it a small niche market?
Air Arabia's headquarters is hidden in a dated cargo terminal at Sharjah airport, a 15km (9 miles) drive from central Dubai, which should take 15 minutes but can take up to two hours during rush hour. This is the humble home of the Middle East's first low-cost carrier, established in 2003 by the Sharjah government in a daring experiment to generate more passenger traffic at an airport that traditionally attracted mainly cargo. The experiment has worked - at least judging by the response to Air Arabia's recent 2.5 billion dirham ($680 million) initial public offering, which was the largest in the history of the United Arab Emirates and was 50% oversubscribed.
Not surprisingly, three carriers from other Middle Eastern countries are now trying to emulate Air Arabia. But chief executive Adel Ali welcomes the competition, explaining more budget carriers in the region allow more passengers and government authorities to become familiar with the low-cost concept. This in turn pushes countries to open up their skies to low-cost carriers, which are now forced to make do with limited or no access at several key airports.

"In 2003 when we started up, we said if we succeeded there would be other low-cost carriers in the Middle East," Ali says. "I don't think people are copying our model. It's been around for 30 years in America and for 20 years in Europe. People have now seen it succeed in the Middle East. We wish them luck. Having more low-cost carriers is good."
Kuwait-based Jazeera Airways became the Middle East's second low-cost carrier in late 2005. Its network has quickly expanded from five to 21 routes, including seven from a second base in Dubai that opened in March. "Looking at the Middle East, surely you can have five hubs in the region," says Jazeera chief executive Marwan Boodai.
Saudi start-ups
Earlier this year two low-cost carriers launched in the most unlikely of places - Saudi Arabia. NAS Air and Sama are currently only operating domestic services but expect to secure approval to add international services in 18 to 24 months. "Saudi Arabia is very clearly on a phased liberalisation path," says Sama chief executive Andrew Cowen.
In the first phase the Saudi government late last year terminated the long-standing monopoly of Saudi Arabian Airlines in the domestic market, which its new competitors say resulted in massive under-capacity. "It's the first market I've been in where there's more demand than supply," says NAS Air chief commercial officer Claus Fischer.
He predicts Saudi Arabia's busiest domestic market, Riyadh-Jeddah, will grow this year alone from 2.7 million passengers to at least four million. Peak day flights on the route are now sold out weeks in advance although Saudi operates more than 15 daily frequencies, mostly using large widebodies.
Cowen points out the average Saudi travels by air only 1.2 to 1.3 times a year despite the country's relative wealth and vast distances. "Elsewhere in the region it's much, much higher," says Cowen, adding the average UAE resident flies six to seven times a year.
The population of Kuwait and the UAE is about three and five million, compared to nearly 30 million in Saudi Arabia. "When you evaluate it, the upside is enormous," Cowen says. "There is no practical way to get around Saudi Arabia except to fly."
For the Middle East's fledgling group of low-cost carriers to reach their full potential, several countries in the region including Saudi Arabia must fully open up. Air Arabia and Jazeera each now serve four destinations in Egypt but are barred from entering Cairo because Egypt's open skies policy excludes the capital. Ali says he also is campaigning for more flights to Bahrain, Jordan, Pakistan, Saudi Arabia and Qatar.
Air Arabia and Jazeera are now forced to serve many of their routes less than daily. As a result they have about four times more routes than aircraft - a ratio that is unheard of in the low-cost industry, where high frequency is the norm.
"Are we satisfied about the number of frequencies? No, in a lot of places we'd like more," Ali says. "We keep trying and we always try to be optimistic about these things."
But Ali and Boodai point out several countries in the region have already fully opened their skies to low-cost carriers, including Kuwait, Oman and the UAE. They say they have convinced Syrian authorities to give them good access by proving low-fare service benefits the economy and population. Boodai says Jordan also has become convinced that allowing more Jazeera flights will stimulate the local economy. "They so much appreciated [Jazeera's initial flights] they said you're free to operate as much as you want," Boodai explains.
He adds Egyptian authorities have even promised Jazeera it can launch a Cairo service at the end of this year, when a new terminal is scheduled to open, freeing capacity for new entrants. He says Jazeera also has received word from Saudi authorities that it can launch services later this year to Dammam, Jeddah and Riyadh. Air Arabia already operates 15 weekly flights to these three cities and Ali expects gradual liberalisation in Saudi Arabia will lead to more traffic rights to that country and will spur on other Middle Eastern countries to open up.
"No one would have thought two low-cost carriers would ever be competing against Saudi. Now it's reality," Ali says. "The Saudi market is opening up. Allowing low-cost carriers domestically is a big step in the right direction."
India also has partially opened up as the government has sought new traffic rights from Middle Eastern countries for Air India Express. The Air India low-cost subsidiary has opened routes to nine Middle Eastern destinations since launching in 2005. In the same period, Air Arabia has been able to launch services to nine Indian destinations and Jazeera three. Ali says there is demand for even more flights given the growing business connections between India and Gulf countries and the large Indian migrant worker population in the region. In fact, Air Arabia has identified 14 prospective new routes to India from Sharjah.
India expansion
Boodai says Jazeera will also launch more India routes as its fleet expands, but will only operate the routes at night because it wants to stick to higher-yielding Middle Eastern markets during the day. "We do see expansion in India, but there are other markets that are more lucrative," he says.
The biggest breakthrough for Middle Eastern budget carriers will probably come in the form of a pan-Arab open skies agreement. "There is a possibility of that. I think we'll see more steps over the coming years. Certainly what Sama is doing is preparing for that," Cowen says.
At the very least restrictions should ease on flights within the Gulf. Cowen says Gulf Cooperation Council countries may form a European Union-like monetary and economic union that could include full open skies. "It's going in that direction," Boodai says. He says the fact Jazeera has been able to launch 16 routes within one year "shows how much opportunity we have and what open skies we have in the region".
While liberalisation is critical for the success of the Middle East's emerging low-cost market, it is also vital that carriers are able to secure and maintain a low cost base. Airports in the region are not accustomed to the needs of low-cost carriers and many have monopolistic government-owned service providers.
For example in Saudi Arabia, there is only one fuel supplier and catering company and all aircraft are subject to the same landing fee regardless of size. "It's a chicken and egg phenomenon," says Cowen, explaining there are so few suppliers because Saudi has been the country's only carrier. But he points out Sama was able to bring SR Technics into Saudi Arabia to look after its line maintenance and he expects other alternative providers will be able to enter the market as it grows. And he claims that, despite the lack of choice, Sama has been able to negotiate favourable contracts with all its suppliers.
"We don't have infrastructure issues here. The thing is to stick to the bread and butter low-cost model and not deviate from it," Cowen says.
To control costs at its base, Air Arabia is forming a new joint-venture company with Sharjah Airport Authority to take over all ground handling at its Sharjah hub from the beginning of May. "You need to control your destiny at your base," Ali explains.
Airport costs
He says Sharjah Aviation Services will be more cost-efficient than the current government-owned ground handler because it will be managed privately. But he adds that "airport costs here are relatively low compared to other regions".
Only one airport in the Arab world is privately owned and most do not aggressively campaign to attract new carriers. "You have to beg them to let you in," Ali says. "Most airports are blocked for the domestic operators. But it's changing."
Budget carriers in the Middle East also have had to tailor the low-cost market to the local environment. All the carriers say they follow a pure low-cost model and charge extra for food, drinks and tickets not purchased online. But all four carriers pre-assign seats and Jazeera also offers a business class on most flights. "You need to adapt to your own region," Boodai says.
Unlike their counterparts in Europe and North America, all four of the region's budget carriers also rely on travel agents for a majority of their bookings. "So long as they don't cost me more I'm happy to do business with them." Ali says. "Customers are happy to use travel agents. Why should I argue?"
Cowen adds: "The different sales channels have different costs. The travel agent is a real expensive way of doing a booking, but it's for the customer to decide. If you want to avoid the fee you can book on the internet."
Many Middle Eastern consumers have internet access but cannot complete their purchase online because they do not have a credit card. Ali says only 30% of Air Arabia's tickets are sold online, but many passengers use a service where they reserve their seats and then go to a bank, post office or money exchange shop to complete their booking. "The internet is widely used in this part of the world but the real challenge is the banking system in Gulf countries," Ali says.
He adds Air Arabia is now testing a solution with banks that will allow passengers to pay for their bookings using cash machines. Cowen says Sama is already using cash machines and the carrier's model is designed to make the process of getting tickets easier for Saudis, pointing out the process of purchasing tickets from travel agents in Saudi Arabia typically takes two hours.
"The Saudi travel experience is really hard work," he says. "Saudis spend a lot of time in their cars. There are a lot of drive-through ATMs. Saudis really appreciate the convenience factor."
Boodai says Jazeera passengers can go to Western Union branches to pay but 75% of passengers now complete their bookings online, many using credit cards of friends or relatives because they do not have their own. Fischer says NAS Air executives were surprised when 75% of its tickets were sold online in its first month, but he says as NAS Air expands into smaller cities this figure will decline. "The importance of travel agents will grow. In the capital we don't need them but in the countryside we need them."
Turning a profit
Despite all the unique challenges, the Middle East's initial group of budget carriers are confident of success. Air Arabia has been profitable since its second year and in 2006 turned a 102 million-dirham profit ($28 million) on 749 million dirhams in revenues. It projects its profits will increase to 369 million dirhams in 2011 on 2.46 billion dirhams in revenues.
With 2.5 billion dirhams in the bank following its IPO, which was completed in April, Air Arabia plans to rapidly expand its fleet and open more bases. All 33 of Air Arabia's destinations are now served exclusively from Sharjah. "There's still a lot of opportunity for growth in Sharjah but we always need to look at opportunities," Ali says.
Air Arabia now only has nine leased Airbus A320s, with commitments in place to lease two more this year and three more next year. But Ali plans to place an order for 20-30 new narrowbody aircraft around mid-year.
Jazeera is already profitable, turning a $9 million profit on $75 million of revenues in 2006. Jazeera, the Middle East's first privately owned carrier, completed an IPO before launching and its 36,000 shareholders have just doubled the company's capital to 20 million Kuwaiti dinars ($69 million).
Jazeera now operates five A320s and has five additional A320s on order, with deliveries spread out through 2009. But Boodai is looking to accelerate deliveries and expand the order. "Our issue right now is capacity," he says.
Jazeera in particular wants to grow its new Dubai base, which is now only about one-eighth the size of Air Arabia's Sharjah hub. "Definitely we want to operate 20 destinations out of Dubai within the next two years," says Boodai. "The city there is expanding so fast. Ultimately we'll have a big number of aircraft operating there."
NAS Air and Sama also have ambitious expansion and IPO plans. NAS, which launched in February with two A320s, plans to operate five A320s by the end of this year and 18 aircraft by early 2009. Fischer foresees a need for at least another 10 aircraft after international services are launched and says its privately owned parent company, business jet operator National Air Services, plans to spin off NAS Air with an IPO in 2009.
Sama launched in March and now operates four Boeing 737-300s. It plans to add another four 737-300s by year-end and operate 35 by 2010. Cowen says Sama is owned by a group of "long-term" private investors, but that a flotation will be considered at some point.
"Naturally they want some idea of an exit when it is deemed appropriate," he says. "Clearly the Air Arabia IPO is interesting. It demonstrates the appetite for airline stock in this region. We'll take note of that."
Market potential
Cowen thinks there is enough business to support more than four low-cost carriers in the Middle East. He claims the region is more attractive for start-ups than India, which is saturated with six low-cost carriers, and China.
"In the Arab world there are 400 to 500 million people. There are hardly any low-cost carriers covering the market and we're talking vast distances with no alternative modes of travel. This makes it a very attractive place to start up."
Boodai agrees: "Four [carriers] are not too many with a market of 150 million. You have two in Saudi Arabia that will be only domestic for two years. So you have two for the rest of the market."
More low-cost start-ups are likely, but do not expect Middle Eastern legacy carriers to join in. "The low-cost market is almost 100% point to point. We have a network," says Emirates executive vice-president Ghaith al Ghaith. He says Emirates plans to stick with an all-widebody fleet. Etihad wants narrowbodies to develop its Abu Dhabi hub, but executive vice-president James Rigney says a low-cost unit "has not been considered".
Only in Saudi Arabia
Saudi Arabia is not a typical low-cost market. The government prohibits domestic carriers from selling fares above a certain level and requires them to operate several unprofitable regional routes.
"It makes the low-cost model a bit challenging," acknowledges NAS Air chief commercial officer Claus Fischer. "Low-cost can work in Saudi Arabia, but it needs to be fitted for the local market. It's not like low-cost in the States or Europe. Doing it here in the Kingdom is different. You have ethical stuff like free seating. You can't do that here. You can't have women sitting in the aisle."
NAS Air also plans to make the unusual move of adding a second aircraft type in only its second year of operation. Fischer says NAS Air, which launched with Airbus A320s, needs Embraer 190s for some of the 20 public service obligation (PSO) routes it is required by the government to operate. "You're not going to make money on PSO routes. You try to limit the losses," he says and "make money on" domestic trunk and international routes.
The PSO obligation, Sama chief executive Andrew Cowen says, is in recognition that Saudi Arabia "is a vast country that has desert towns. If you didn't have air services these towns would be cut off."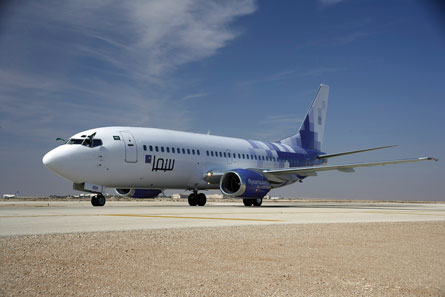 But Cowen says Sama will stick exclusively to 737-300s, even on its PSO routes, as adding regional aircraft would distract it from the low-cost model. "There are many examples of thin routes successfully flown by low-fare airlines where price is used to stimulate the necessary demand," he says.
While all routes in Saudi Arabia have a government-set price cap, airlines are free to charge less than this. Saudi Arabian Airlines now charge all passengers the maximum fare, which is 280 riyal ($72), including taxes, from Riyadh to Jeddah. Fischer says NAS Air one-way fares on the route start at 79 riyal and average about 130 riyal. Bus services between the two cities also cost 130 riyal but take about 12 hours.
NAS Air and Sama are prohibited from selling walk-up passengers tickets higher than the cap. In any other country they would be able to do so to help balance the lower fares paid by those passengers who booked in advance. Jazeera chief executive Marwan Boodai says this restriction results in a lower average fare. "I don't understand how the market can be sustained at such low fares," he says. "That [the cap] doesn't work with low cost."
However, NAS Air and Sama are not too concerned they cannot charge anyone more than 280 riyal from Riyadh to Jeddah or 150 riyal from Riyadh to Dammam. They believe charging less than the cap will stimulate the market because Saudi Arabian Airlines has always sold all tickets at exactly the cap. They also think demand is outstripping supply by so much that profits can be achieved despite the intricacies of the local market.
"Some of our flights already have been at 100% load factor. Internet bookings are doing very well and are above budget," Cowen says. "We think profitability is achievable very quickly."