King Fahd International Airport completes expanded food & beverage offer
Published: 31/08/10
Source: ©The Moodie Report
By Martin Moodie

SAUDI ARABIA. With the opening of the Costa Coffee outlet in the Arrivals hall, King Fahd International Airport (KFIA) has marked the successful first-stage revamp of its dining offerings.

Passengers and well-wishers alike can now enjoy an expanded selection from seven new food & beverage outlets in the terminal, which also include brands such as the popular doughnut chain, Krispy Kreme, local coffee chain Dr Café, and Coffee Talk. Dr Café is a rapidly growing Saudi Arabian coffee chain, and Coffee Talk a coffee concept specially tailored for airport dining by local airport operator Al Musbah.

KFIA Director General Mr Khalid said: "We are deeply encouraged by the success of these international brands at KFIA.

"We have since had many requests from several international brand name operators to commence operations at the airport. With strong passenger growth expected in the coming years, we are confident of working with current and future partners to give our passengers an even better range of shopping and dining options."

KFIA said it is especially proud to be the first Middle East airport to have a Krispy Kreme outlet. With outlets at both the check-in and the Arrivals hall, they have proven especially popular among international passengers from countries which do not have Krispy Kreme outlets, the airport company said.

Said Ahmed Radwan, Group Marketing Manager of Eastern Province, Americana Group, the franchisee for Krispy Kreme in KSA: "The sales at the Krispy Kreme outlets at KFIA have greatly exceeded our expectations, and we would easily place them in the top five of the nearly 30 outlets we have in the Kingdom. In fact, our airport outlets are the only 24-hour outlets in the Kingdom."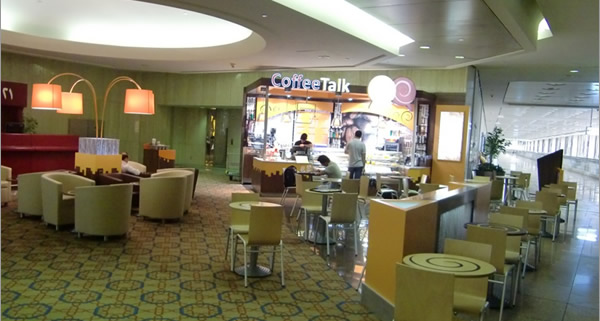 Coffee Talk is among the brands enhancing the F&B business at King Fahd International

Passenger traffic through KFIA grew by +9.1% year-on-year in the first quarter of 2010, outpacing global growth of +6.1%.

In 2009, the airport managed a strong +4.5% passenger growth over 2008, despite the severe global recession which a year-on-year decline in global passenger numbers. More recently, March 2010 saw the introduction of new services by Jet Airways to Trivandrum and Malaysia Airlines to Dubai and Kuala Lumpur.

Through 2010 and 2011, KFIA will progressively unveil new shopping and dining concepts to cater to the airport's increasing passenger numbers. "These will include fast food, casual dining and specialty retail outlets, which will give our passengers an exciting array of shopping and dining options from the region and the world," said the company.

ABOUT KING FAHD INTERNATIONAL AIRPORT

King Fahd International Airport, located in the eastern province of the Kingdom, is the largest airport in the world in terms of area, covering 780sq km. Completed in 1999, King Fahd International Airport is the third major international airport in Saudi Arabia. The airport mainly serves Dammam, Dhahran, Khobar, Jubail and the neighboring regions.

• In 2009, KFIA's passenger traffic grew +4.5% to hit 4.93 million passengers.
• KFIA's five-year annual compounded growth rates from 2005 to 2009 for passenger and cargo throughputs are 8.0% and 6.8% per annum respectively.
• KFIA is served by 30 airlines
• KFIA is served by more than 55 city links and more than 1150 weekly flights.