King Fahd International Airport News
KFIA Dammam, Saudi Arabia
Crown Prince Abdullah Opens New King Fahd Airport
10/27/1999
Deputy Prime Minister and Commander of the National Guard Crown Prince Abdullah Bin Abdul Aziz today opened the new King Fahd International Airport in the Eastern Province. Also present were Second Deputy Prime Minister, Minister of Defense and Aviation and Inspector-General Prince Sultan Bin Abdul Aziz, Minister of Interior Prince Nayef Bin Abdul Aziz, Governor of the Eastern Province Prince Muhammad Bin Fahd Bin Abdul Aziz, and other government officials.
Speaking on the occasion, Head of Civil Aviation Dr. Ali Al-Khalaf recalled the support for aviation given by founder of the modern Kingdom King Abdul Aziz Bin Abdulrahman Al-Saud, that included his gift in 1945 of his private plane as the nucleus of the national airline. Dr. Al-Khalaf went on to say that Saudi Arabian Airlines now serves 30 million passengers every year. The new airport incorporates two main airstrips over 12,000 feet in length, and will in its first phase accommodate 10 million passengers annually. It is easily accessible from the industrial city of Jubail to the north, and to the southeast, the urban complex of Dammam, Dhahran and Al-Khobar.
Yesterday, Prince Sultan issued a statement saying that the new airport had been gifted to the citizens by Custodian of the Two Holy Mosques King Fahd Bin Abdul Aziz, and that it would contribute to the overall economic development of the country. He added that its position is a strategic one, as a connecting point for important air routes linking Europe and the Far East. Prince Sultan went on to emphasize that the government not only builds airports, but seeks the training of Saudi personnel to cope with the latest technology.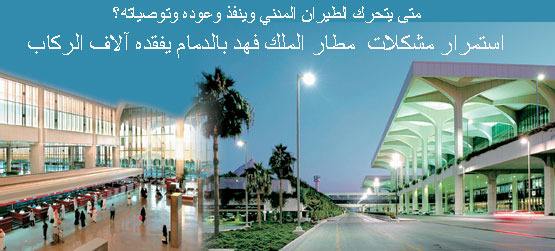 Private Sector Gets Role in Saudi Civil Aviation
March 8, 2004
(Reuters)
Saudi Arabia approved measures on Monday giving the state-owned civil aviation sector greater independence in a move which appeared to bring its goal of privatization a step closer.
The official Saudi Press Agency said the cabinet approved transforming the civil aviation sector into a state-owned agency with "financial and administrative independence." It said the agency would be run on commercial lines.
Government and private sector figures would both be represented on its board, SPA said.
Officials were not immediately available to give more details but the government has said it plans to privatize several sectors and public firms, including aviation and airport services in a bid to open up investment and create jobs.
The civil aviation authority said in October it was seeking "broad private sector participation" in operating local and international airports, except for security operations.
In 2002 the loss-making Saudi Arabian Airlines said its board had approved the sale of cargo and technical services as part of an overall plan to privatize the flagship carrier.
It said the board was still studying plans for an option to sell off 30 percent of the airline.
Saudi Arabia's 2002 partial privatization of Saudi Telecommunications, its biggest sell-off in years, has emerged as a showcase for the state's plan to float public entities after making them into corporations to help meet growing demand for services while cutting expenditure.
The move aims to help tackle budget deficits and unemployment, as well as easing the public debt, which almost equals the country's gross domestic product.
Saudi Arabia to Privatize Airports: Civil Aviation Chief
Tuesday, 28-Oct-2003
Story from AFP
Copyright 2003 by Agence France-Presse (via ClariNet)
RIYADH, Oct 28 (AFP) - Saudi Arabia will privatize its international and local airports but keep security duties at the facilities in state hands, civil aviation chief Abdullah Rahimi said in remarks published Tuesday.
"The civil aviation authority will seek to achieve broad private sector participation in running local and international airports by privatizing them, except for security operations," he told the daily Al-Medina.
Rahimi said his authority was already privatizing some airport services, but he did not give a timeframe for completion of the process.
He said Defense and Aviation Minister Prince Sultan bin Abdul Aziz had recently signed deals with five Saudi firms worth 638 million riyals (170 million dollars) to operate regional and local airports for three years.
The vast kingdom has around 25 airports, including three international airports: King Khaled in Riyadh, King Abdul Aziz in the Red Sea port city of Jeddah, and King Fahd in Dammam in the oil-rich Eastern Province.
Rahimi said a new regional airport would be built in al-Ala near the Muslim holy city of Medina.
Air transport and airport services are among the vital fields the Saudi government has opened to the private sector as part of an ambitious privatization drive.
In June, it decided to break a decades-old monopoly of national carrier Saudi Arabian Airlines by opening the kingdom's domestic aviation sector to local competition.
lg/bp/mb
Saudi-economy-air-privatization
Saudi Arabia awards airport contracts
Wednesday, 29-Oct-2003
Story from United Press International
Copyright 2003 by United Press International (via ClariNet)
RIYADH, Saudi Arabia, Oct. 29 (UPI) -- Saudi Arabia has awarded five companies -- including one owned by Osama Bin Laden's family -- contracts worth $170 million each to operate airports.
Saudi civil aviation chief Abdullah Rahimi said in a statement, "The Civil Aviation Authority will seek to achieve broad private sector participation in running local and international airports by privatizing them, except for security operations."
Middle East News line said Saudi Defense Minister Prince Sultan Bin Abdul Aziz has completed contracts with the five Saudi companies to operate the privatized regional and local airports during the next three years.

Dammam 15/03/07: Sama Airline celebrated its inaugural flight yesterday in the skies of the Eastern Province. The flight took place on Wednesday, March 14 from King Fahad International Airport in Dammam. More Sama Press Release