King Fahd International Airport
A MAGNIFICENT ACHIEVEMENT FOR THE KINGDOM
IN THE AIR TRANSPORT INDUSTRY
Prepared by: The Editorial Board, Civil Aviation Magazine
Extracted in full from issue No.27, lay out was changed to suit Extracted in full from issue No.27, lay out was changed to suit web site
Airport Operational Readiness
In compliance with the directions of HRH Prince Sultan Bin Abdulaziz the Second Deputy Premier, Minister of Defense and Aviation and Inspector General to start airport operation in Rajab 1420H corresponding to October 1999, a very detailed plan was laid down for testing facilities and checking the operational readiness of the airport operating agencies and users.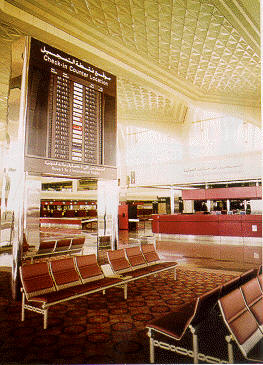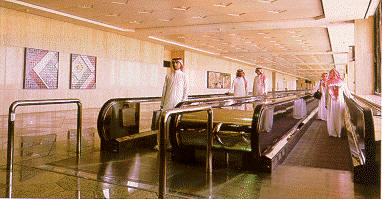 The Operational Readiness Plan Included Four Phases:
·

Phase One

This phase involved testing landing operations during the day, air operation pavements, normal operating conditions, passenger boarding bridges, apron services, FIDS operations & systems and airport operation center.
·

Phase Two

The second phase involved testing all procedures related to domestic flights, baggage and passengers, in both the Passenger Terminal and Royal Terminal. Airfield lighting, refueling systems, and apron services were also tested in this phase.
·

Phase Three

The third phase included testing all activities related to international passenger and baggage processing as well as those activities related to air cargo and mail operations and all day landing operations.
·

Phase Four

The last phase was executed while all passengers, public and aircraft related facilities and systems were in a state of full operational readiness to facilitate 24-hour operation.

Thanks be to God, all these phases were executed as planned and the readiness of all airport facilities and systems is assured.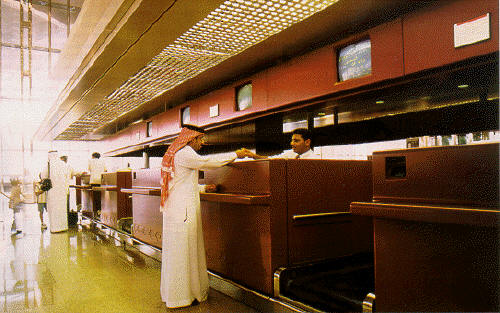 Opening Ceremony
The Presidency of Civil Aviation allocated all its technical and human resources to the airport operation through a group of advanced programs starting from the opening ceremony which required a lot of preparations and continuous work in order to ensure that the opening ceremony shall be up to the desired standard which matches the importance of this special occasion which becomes concurrently with the Kingdom's centenary celebration.
Executive committees were formed under the chairmanship of H.E. Dr. Ali Abdulrahman Al-Khalaf, President of Civil Aviation. H.E. presided over the opening ceremony committee whose membership included PCA senior officials. A number of specialized sub-committees stemmed from the committee: (Preparatory Committee, Technical Committee, Security Committee, Reception Committee, Hosting Committee, Financial Committee, Health Committee and Public Relations Committee).
Each one of the committees was assigned tasks and responsibilities within an integrated framework plan. Preparation efforts covered all the sections of the opening ceremony including the video presentations, and the documentary film, which shall be prepared by a specialized national company in addition to related publications such as brochures, pamphlets, booklets, press information files and photographs showing the airport facilities with the centenary logo on them. All preparations related to the welcoming of the visiting VIPs from in-kingdom and out-of-kingdom were complete and all efforts were integrated to ensure all chances of success for the ceremony.
PCA has the right to be proud of this remarkable achievement and to extend its genuine felicitations to the man behind the country's development, the Custodian of the Two Holy Mosques, King Fahd Bin Abdulaziz, and to the Crown Prince and Deputy Premier and Head of the National Guard and HRH Prince Sultan Bin Abdulaziz, the Second Deputy Premier, Minister of Defense and Aviation and Inspector General who personally followed up all airport execution phases and also to H.H. Prince Fahd Bin Abdullah, Assistant Minister of Defense and Aviation and Inspector General for civil aviation for his highly appreciated efforts in facilitating completion of the airport and finally to all the citizens of this generous country.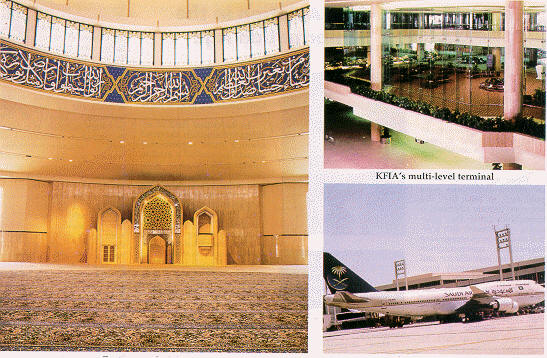 KFIA Profile

Location

Eastern Region, 50 km. Northwest of Dammam

Area

776 sq. km.

Passenger Capacity

5 million passengers now; 16 million in future

Car Parking Capacity

4,930 cars

Mosque Capacity

2,000 worshippers

Control Tower Height

85.5 m.

No. of Runways

Two (2)

Aircraft Parking Gates

15 gates

Passenger Terminal Area

327,000 sq. m.

Water Desalination Plant Capacity

13,600 cu. m. /day

Waste Water Treatment Plant Capacity

6,000 cu. m. /day

Fuel Tanks Capacity

43,000 barrels

Air Cargo Terminal Capacity

94,000 cu. m. / day

Airport's Road Lengths

89 km.
Significant Construction Highlights
· 137 million working hours
· 6 thousand workers
· 46 million cu. m. of earth works
· 836 thousand cu. m. of reinforced concrete
· 61.5 thousand tons of reinforcement steel
· 1.4 million cement bricks
· 2.4 metric tons of asphalt
مجلة الطيران المدني الصادرة عن رئاسة الطيرن المدني بالمملكة العربية السعودية
Civil Aviation Magazine - Issued by the Presidency of Civil Aviation, Jeddah - Kingdom of Saudi Arabia